Are you new to the Motorhome world but don't know where to begin when it comes to the best accessories to get you on the move?
We thought putting together a top 10 would be the best way to tackle accessories, but once I started there was no stopping me!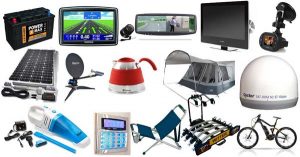 Electrical Accessories
TV & Satellite Dish, Sometimes watching a bit of TV can just help you unwind or help distract children so you can finally get a glass of wine after a day of travelling.
Electrical Hook-Up Leads
UK 3 Pin Adaptor
Continental Adaptor
Additional Leisure Battery
Exterior Accessories
Levelling Blocks, not all pitches are the same and can make your motorhome feel a little uneven. With leveling blocks you'll be on an even playing field again.
Camping Chairs
DriveAway awnings are perfect if you are looking for more space to sleep or just relax.
Awning Tie down Kit, don't let the wind carry away the awning you've spent ages putting up.
Solar Panels
Alarm
Kitchen Accessories
The must have for most UK households is a Kettle! With a few variations to choose from, find your perfect on on our website.
Plates, Cups & Silverware. We recommend Melamineware as it's very lightweight and less like to affect your motorhome travelling weight.
We stock a wide range of Kampa accessories that can be folded down to make the most of your storage.
A not so new product we recommend are the double bars for your fridge and cupboards. These help keep all your fride and cupboard items upright and causes less noise when travelling.
Health & Safety
Being out on the road means you have to be a bit more prepared for any unexpected occurrences.
We suggest the following items as a great start to helping you be prepared.
Torch
Fire Extinguisher – don't worry we aren't saying you're a bad cook, this is just in case your fry-up turns into a fry-out!
Smoke Alarms
Carbon Monoxide Alarm
First Aid Kit
The Loo
A big question The Shop get asked is what products do you recommend for the loo.
Shop Assistant Dave says 'The Thetford Aqua Kem Green Sachets are the best. Not only do they come in individual sachets so you are guaranteed the correct dose everytime, there is no measuring or any messy clean up.'
Don't forget your tank fresheners.  The freshener reduces and prevents deposits and the accumulation of grease in the tank and pipes, making the waste water tank fresh and clean.
And finally, to keep your loo in tip top shape, make sure you use Rapid Disolving Toilet roll. It helps prevent clogging and damage damage whilst protecting moving parts.
Travelling Abroad
Now some of you may know the do's and don't for travelling in European cities. But you don't want to run into any issues without the Ring European Travel Kit.  This contains almost everything to legally required to drive in Europe.
To get some more accessory inspiration, have a look at our Shop and Accessories website here.
But if you have any must-have's that we haven't listed, let us know in the comments!