6th September 2017
This month our Sales Manager Ben Tosspell has chosen our Used Left Hand Drive, Concorde Carver 821 L as our Motorhome of the Month!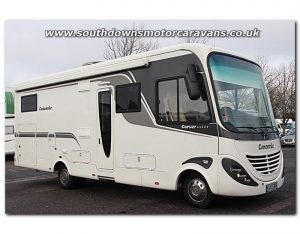 For years, Concorde Reisemobile has been the epitome of luxury motorhomes for UK and Europe.
When asked why this motorhome should be listed as our MOTM, our sales manager Ben said;
The Concorde Carver reprises fantastic value for money, compared to the new model valued at over £250,000. There has only been 1 of  these, with this specification sold in the UK.

When you look at the specification that is included, you would have to agree it is a choice motor.
A 2 berth 8.28metres long A class with rear twin single beds over the garage and wrap-around cupboards over the cab.  With an impressive engine boasting 3,000cc and 170ps, you won't be lacking any pull. 
Based on the current mileage of 30,000 miles, there is still plenty of life left in this motor and ready to go on its next adventure.

With the Concorde C- lounge, you get twin swivel front cab seats, L-shaped couch with side couch and beautiful leather upholstery in Sandstone.  The lounge also has a central table, LED flatscreen TV, overhead storage cabinets, removable carpet in grey/brown and a Panoramic skylight.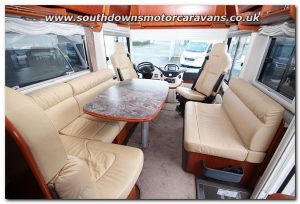 The bedroom compromises of 2 twin beds at the rear of the motorhome, above the garage.  It has impressive windows in the bed area, allowing for more air and sunlight to make its way in.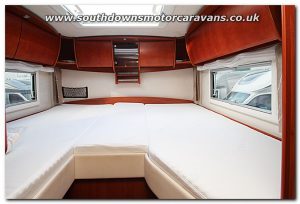 The overhead storage above the beds is perfect for two people.
Stop by and see us or give us a call to get more information on this Concorde.  More information is here on our website, with a lot of additional pictures. Of course, the pictures will never do this beauty any justice so you will have to come see it yourself!